JRK's Herbal Anti Cough Syrup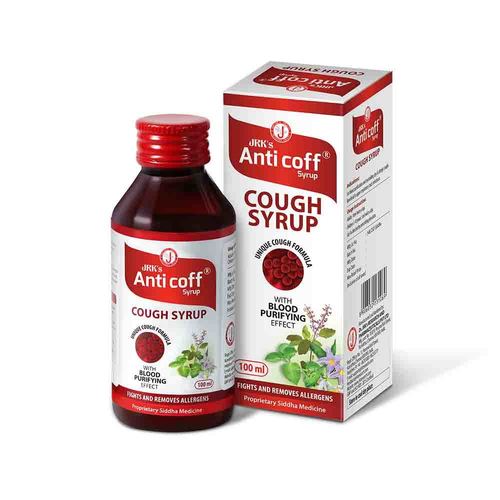 JRK's Herbal Anti Cough Syrup
Price And Quantity
Product Specifications
Composition Each 5 ml contains Aniscochilus carnosus : 5 mg Leucas aspera : 5 mg Ocimum sanctum : 2 mg Solanum trilbatum : 5 mg Acalypha indica : 2 mg Adathoda vasica : 2 mg Syrup Base : Q.S. Contra-indications There are no known contra-indications.

Usage Instructions Adults: 10 ml twice a day. Children 1-10 years: 5ml twice a day (OR) As directed by the physician.
Product Description
JRK's Herbal Anti Coff Syrup
Do you easily catch cold and cough and have given up finding a good remedy for it? If yes, then buying JRK's Herbal Anti Cough Syrup is the answer to your cough issues. This is a herbal remedy for cough caused by bronchitis or common cold. It works for both dry cough and the one with phlegm. And, since its formulation is entirely herbal, it does not have any side effects. However, the dosage should be taken carefully. Buy JRK's Herbal Anti Cough Syrup from us at the best prices.
JRK's Anti Coff Syrup is for
Removal of allergens, antigens, pathogens
Soothens and minimizes the dryness of throat
Detoxification of blood
Suppressing the irritant reactions in the respiratory passage
Local anti-inflammatory effect
Controlling dry & allergic cough.
Non drowsy formulation
Indications
Beneficial in upper respiratory tract infections.
Blood purification
Contact Us
NO. 11, Perumal Koil Street, Kunrathur, Chennai, Tamil Nadu, 600069, India
Phone :+918045479262